Cure for the Common Life by Max Lucado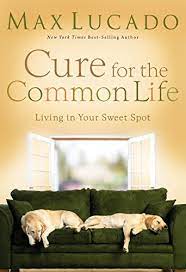 God has designed you and gifted you in a unique way so you can fulfill the special purpose he has in mind just for you. As you increasingly understand your giftedness, you can build your life, your work, and your ministry on God's unique will for you. But as you learned in Cure for the Common Life, finding your sweet spot takes more than just discovering your unique gift mix. That's a crucial step, but it's only the first step. To find your sweet spot, you must: use your uniqueness (what you do).
Everything comes from God alone. Everything lives by his power, and everything is for his glory. The breath you just took, God gave that. The light by which you read and the brain with which you process, everything comes from him and exists for him. We exist to exhibit God, to display his glory. God planned and packed you on purpose for his purpose. It is God himself who has made us what we are and given us new lives from Christ Jesus; and long ages ago he planned that we should spend these lives in helping others.
Size: 1.3mb