Discovering Identity by Geoffrey Bingham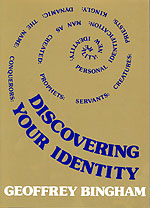 What anyway is a personal identity? This book seeks to give answers to some of these questions. Man's identity consists in those things with which he is identified by his own will. In Biblical terms his identity is given him by God who creates every man a unique person. Man can go against this identity and suffer as a consequence or he can accept it and develop richly. To do this he must keep his integrity against the adverse tides which flow about him This can be called a thoughtful book. It is, nonetheless, exciting. It may well help a man to discover his true identity.
To discover your identity, It starts from God." It follows this order:– First understand Who God is. Then, because man is made in His image, you will discover who man is. In other words, theology precedes anthropology. Put simply it is this: – 'Know God and you will know man.' Simplistic as this is it is the Biblical way of knowing man, and there is no other way.
To discover your identity you need to see this book why not click on the download button to get a copy
Size: 403kb