Ever Increasing Faith by Smith Wigglesworth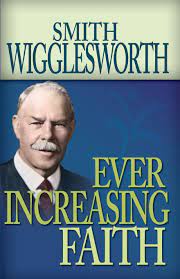 Always trusting God, even in the most hopeless situations, he had total confidence in the power of Christ. Join this late evangelist in the great adventure called "faith," where miracles were daily events. Witness the many accounts of deliverance from diabetes, tuberculosis, demon possession, and even death. Prepare to be overwhelmed as the seed of faith begins to expand and grow in your heart. Watch as God moves, touching lives with healing and deliverance miracles that follow as signs of the power of faith.
Your faith, great or small, can multiply ever increasingly as it overflows into the lives around you, bringing glory to God and blessings to the world, there is nothing impossible with God. All the impossibility is with us when we measure God by the limitations of our unbelief.
Size: 853kb