How to Study the Bible by Watchman Nee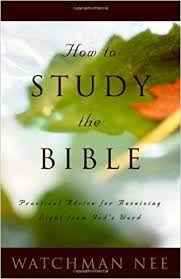 The Bible shows us what God has done for us in the past and what He has said. It also shows us the ways that God has guided men in the past. In order to acquaint ourselves with the riches and vastness of God's provisions, we have to study the Bible.
God's present speaking is based on His past speaking. When God speaks to others through us, He does so through His established word. We must let the word of God dwell richly in our hearts before we can hear His speaking today and before He can make us ministers of His word.
Size: 618kb