Smith Wigglesworth on the Power of the Scripture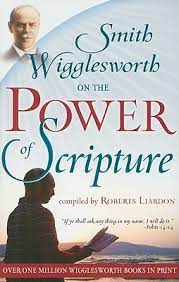 Some people speak words that can change a situation; others speak words that change a destiny. Smith Wigglesworth was a nation-shaker, a destiny maker. He has always been one of my favorite generals of God because of his bold, uncompromising approach to faith in God and His Word. These are the days of the dispensation of the Holy Ghost, That is why the Holy Ghost is to come into your body. First of all, when your sin is gone, you can see clearly to speak to others. If you have extravagances without wisdom, you will know
very well it is going to be no profit. You have to learn not to leak out nor waste out, and you have to learn above all things that you have to be out and God in. The trouble with so many people is they have never got out so He could get in. But if ever God gets in, you will be first out, never to come in any more.
Size: 1.12mb