TEN MEN OF THE BIBLE by Max Lucado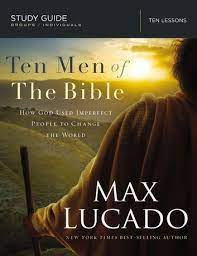 In this book, Ten Men of the Bible, these men were marked by scandal, stumble, and intrigue. Yet they are also marked by remarkable faith. Noah, who built an ark but then drank a bit too much wine from his vineyard, Job, who thought he knew more about God than God did until God showed up and set him straight. Jacob, who hijacked his brother's birthright and stole his blessing,
Moses, who murdered an Egyptian and fled to the wilderness, David, the giant-killer who couldn't corral his testosterone, Joseph, the man who went out on a shaky limb, Matthew, the tax collector who left it all to follow Christ, Lazarus, who well, died. Peter, who betrayed Jesus three times and then fled the scene, And Paul, the killer of Christians who did a 180-degree-turn when he met Jesus on the Damascus Road.
Size: 1.44mb