Ways to Provoke Divine Vengeance by Dr Dk Olukoya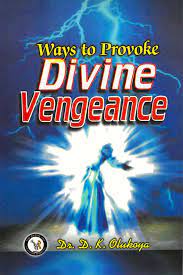 Vengeance is in God's domain not in ours. That's why He says: "The LORD shall fight for you, and ye shall hold your peace". Sometimes when there is no war, there cannot be peace. You need to understand that the only word the enemy understands is violence. In most cases, your breakthrough is not guaranteed until the Lord brings vengeance upon the enemy.
When the Bible says: "Thou shalt not suffer a witch to live". It means, don't allow its activity to destroy your life. You destroy the activity and silence the Witchcraft power and kill it. One principle which never changes in spiritual warfare is the principle of: "If you don't stop them, they will stop you. "The God we serve is a jealous God and He would proclaim the day of vengeance for you today, in the mighty name of Jesus.
Size: 583kb