Download Pastor (Mrs) FAITH OYEDEPO Messages MP3 & Audio Sermons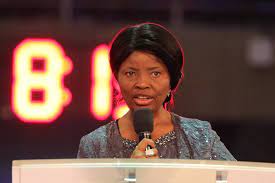 This page contains powerful Pastor (Mrs) FAITH OYEDEPO messages MP3 and audio sermons, teaching that you can easily download and listen to – for your personal and spiritual growth.
How to Download Pastor (Mrs) FAITH OYEDEPO Messages MP3 & Audio Sermons:
The download is very simple and easy. All you need to do is to click on any of the below titles. The download will start in less than 2 seconds.
Please don't forget to share this post on your facebook/whatsapp right now so that other people can download these life-transforming teachings.
Messages on Marriage
Other Messages by Pastor Mrs. Faith Oyedepo

Would you like to get more Messages & Videos by Pastor Mrs. Faith Oyedepo? There are lots of them on the ministry's official website & YouTube channel. Click here to get them now.
---
Wait, Before you go…!
Here are some other powerful teachings for You:
(Just Click on the name of any Preacher to start downloading right away)
Biography
---
Faith Abiola Oyedepo, formerly known as Florence, was born on the 5th of February, 1958. She is the wife of Bishop David Oyedepo, the founder and General Overseer of Living Faith Church Worldwide aka Winners Chapel. She got married to the Bishop in 1982. Their union is blessed with four children: David Jnr, Isaac, Love and Joys.

Faith, alongside her husband spreads the Gospel of Jesus across the nations of the world. She is one of the voices that helps in fufilling the divine mandate that was given to her husband in 1981. She has a special ministry of helping many to build and raise Godly homes and relationships. She teaches the whole counsel of God, but many times expose individuals to God's own strategies of building good homes and relationships. This call is not focused on just married people, but also on singles, as she teaches them on steps on how to build good relationships. Just like her husband, she is also a strong woman of faith. Her faith-based teachings have been very impactful.

She once had an health challenge years back which almost claimed her life, but God took control and she's hale and hearty. Today, she has authored many books which covers the areas of Godly Relationships, Family Life, Values, Victory, Faith etc. Her materials are said to have been a blessing to many, as she opens many to the understanding of God's counsel and will for their lives in all wise.
---
---
DISCLAIMER!!!
We do not claim ownership of any of the files on our website. They remain the properties of the original content creators. We only upload them for the Edification of the listeners.
Please, if we have infringed on your copyright or someone you represent, and You want your media files removed from our database, send a mail to "admin@naijasermons.com.ng" right away, we will remove them all in less than 2 hours. Thanks for your understanding sir/ma. To read more about our Content Removal Policy, CLICK HERE.