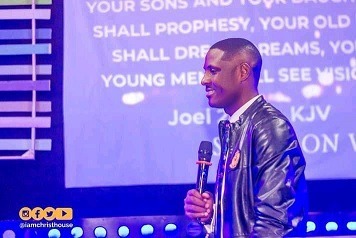 Are you willing to download Rev'd Kcwilliams Messages on your mobile phone or personal computer? We have lots of sermons by the minister of God. The title and file size of each audio mp3 are specified below. Click on any of the below title and the download will start immediately:
Biography
Rev'd Kcwilliams is the lead pastor of KING'S TRYBE GLOBAL CHURCH and the senior pastor of CHRIST HOUSE CAMPUS CHURCH, the campus ministry arm of KTGC, a church with the mandate of redeeming men from the bondage of sin, ignorance, religion, and traditions; so all can come into the full realization of Christ existence and sacrifice. An ardent teacher of the word, His simple yet classic humor style of delivery and creative illustrations have endeared him in the heart of many and made him sought-after around the nation and God confirming his words with remarkable signs and countless stories of changed lives.
Industry-wise, Pst Kay (as fondly called) is a human development genius and a cut-edge idea conceptualizer and developer. He has major interests in ICT, Media, Acquisitions, Training, Real estate, Survey, Research, Strategy, Capacity building Idea banking, etc.
Rev'd Kcwilliams Profile
Name: Kcwilliams Perry
Birthday: 20th of September
Nationality: Nigerian
State of origin: Enugu state
Place of birth: Enugu state
Occupation: Pastor & Consultant
Early life
Rev'd Kcwilliams hails from Enugu state. He was born in Enugu state and raised in Lagos State Nigeria. He grew up in a Christian home, and was commonly referred to as a church boy, Rev'd has always loved God and the things of God, he played keyboard in church as a teenager and while in youth Church. Right from his young age, he has shown great love for the things of God, and what we see today is just a confirmation of his love for God and for God's people.
Rev'd Kcwilliams education
Rev'd Kcwilliams grew up in Lagos State, where he had his primary and secondary school education and obtained his first school leaving certificate and west African senior school leaving certificate.
Primary school: St. Paul Cathedral Nursery and Primary School, Lagos State.
Secondary school: Rev'd Kcwillliams attended Paxton Internation school, Ojo, Lagos State before proceeding to Blessed Winners College, Ojo – Alaba, Lagos State, where he held the prestigious post of the Senior Prefect Boy (Head Boy).
Tertiary: Federal University Oye-Ekiti, Ekiti State.
Rev'd Kcwilliams Ministries
After receiving the life of God and yielding to the call of God upon his life, he submitted to training under his spiritual father and mentor; Rev'd Peter Ayo-Alabi and by divine instructions started Christhouse Campus Church in Oye-Ekiti, Ekiti State as a campus cluster with satellite churches in most tertiary institutions in Ekiti State, Nigeria.
Christhouse Campus Church started in the year 2014 in Oye-Ekiti and at present has lots of ministry expressions all around Ekiti State and beyond. Rev'd Kcwilliams is a man of God that believes so much in excellency in all that he does, this has given birth to very strong ministry of helps team in his church. He believes in the death, burial and resurrection of Christ that gave us eternal life.
He is also given to helping and training young ministers and pastors in their ministry walk with God through monthly and quarterly mentorship programs.  Rev'd Kcwilliams is the convener of quarterly relationship summit BUTTERFLY ( Friendship, Courtship & Marriage ) where he teaches biblical and life proven principles that governs this area of our lives. He is also the set-man of GOSPEL UNCENSORED a Christocentric campus gospel campaign with the mandate of revealing the finished works of Christ without the "if" and "but".
Books writing
Rev'd Kcwilliams is the author of Fundamental Steps To Success, a book he authored while he was in secondary school, and over Ten Thousand copies of the book were republished fully funded by a Woman whose son found the purpose for living by reading the book. Several other books by Rev'd will be rolled out this year.