Seeds of Destiny Devotional for Today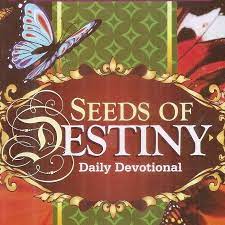 Would you like to read Seeds of Destiny daily devotional for today, plus prayer points? You're on the right page…!
On this page, we have the devotionals for every blessed day, in a chronological order. All you need to do right now is to scroll down a little to the actual date you need, and then click the topic – the write-up will display instantly.
*Note: If you don't want to keep visiting this page every time you need the devotional, you can install our mobile app instead. It is very easier to access there. CLICK HERE TO INSTALL RIGHT NOW!!!
SEEDS OF DESTINY Devotional for SEPTEMBER 2021
About Seeds of Destiny

The Seeds of Destiny devotionals is a product of the Dunamis International Gospel Centre. It is a powerful tool that is filled with instructive and life-altering contents. This devotional is set to keep you on course and enhance your spiritual growth as it exposes you seasoned teachings of God's Word.
Locked inside a seed is a tree. You don't know what you could achieve with just a seed dwelling in you.
This devotional is said to provide seeds not just a seed. And not just anyhow seeds but seeds from God's word which are capable of lifting you high like you have never imagined. A devotional that breaks that veil of blindness, opening you up to the will and wisdom of God. In this devotional, matters that concerns destiny are addressed, and instructions that pertains to your victory in life are loaded in it.
Pastor Paul Enenche is was born on the 12th of June, 1968 in Orokram, Benue state, Nigeria. His mother is Titi Enewa Enenche. He studied Medicine and Surgery from Joseph's University, Plateau state. While in the university, he attended Deeper Life Campus Fellowship, it was during those moments he gave his life to Christ. He mentioned that his salvation came as a result of convictions in his heart and questions about eternity.
The Dunamis Church was founded in 1996 with the first service held in Centre for Arts and Culture in Abuja. It later moved to Sheraton hotel in the same state. The current headquarters is called Glory Dome, which was built in 2018, and it is said to be one of the largest church auditoriums in the world.
Paul Enenche is a very seasoned teacher of God's word, a prolific author who has written quite a number of books. His mentors are Pastor Enoch Adejare Adeboye, Pastor W F Kumuyi, Bishop David O Oyedepo. He mentioned that he has been blessed through their ministry. He is married to Dr Becky Enenche, they're blessed with four children.
Seeds of Destiny devotional for today, prayer points, pdf download, read online