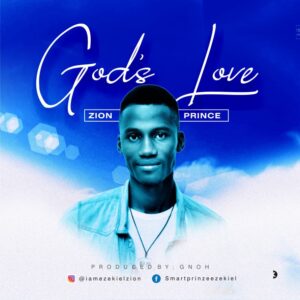 The song God's love by Zion prinze is a song that talks about the unconditional love that God showed to us, even when we don't deserve it…
Lyrics
INTRO: Okay let go, Ladies and gentle men,
it's ur boy Zion prinze on the microphone,
I am here to testify about God's love for my life,
I know that God has revealed his love to you,
just sit back and listen to my testimony and be blessed,
Let's go, alright Gnoh on the beat,
Oh lo oo o, yeah ah let's go,
Alright everybody listen.
VERSE 1: You've turned my life around,
You gave me victory,
I could not pay my debt,
You paid it all for me,
You laid ur life for mine,
You made a way for me,
Your love is deeper than the ocean,
Your love for me is great,
I couldn't have asked for more,
You have set me free and now I'm born to win,
You've shone your light on me,
And I'm untouchable,
Your love is higher than the heavens.
CHORUS: Your love for me, I can not explain,
Precious than gold and more than enough,
When I think about you, it makes me to say, oh my God your love for me is great… (Repeat Chorus)
VERSE 2: Lord your love is so amazing,
I can't express what I'm feeling cos it's driving me crazy,
For my sake you were imprisoned,
Without no reason you were killed and you headed down to hades,
But on the third day you overcame,
for my sake you brought light and my darkness can't deny it,
It's all about what you've done for me,
Now I'm working in miracle and your glory shine on me yeah,
There was no way, you made a way,
There was darkness, you brought your light now I'm shining bright,
In the midst of distress, there was rest,And when disgrace comes, you cover me with your grace.
REFRAIN: There is something about this God's,
This God's love is so so amazing,
So amazing that I could come closer,
And the closer I get, I am stronger. (RPT 3x)
God's love, God's love for me,
God's love, more than I can imaging (RPT3x)
(Chorus)
OUTRO: That's my testimony, now you've all it,
So let's continue to give God thanks, let's give him praise, cos he's worthy of our praise,
It's ur boy Zion prinze and Gnoh on the beat…
About the Artiste
Smart Osas Ezekiel who is known as Zion prinze is from Edo state, he recorded his first song in 2018, he is a born again Christian who preaches the gospel through his rap songs and he is also a worship and praise leader…