KING OF GLORY by Olaleye Iseoluwa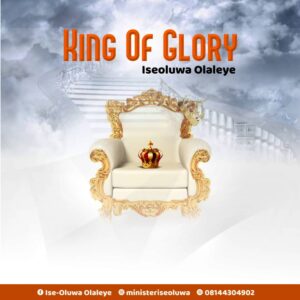 Song Title: KING OF GLORY
Artist: Ise-oluwa Olaleye
Genre: Christian/Gospel
Year: 2021
Song Description
It's a song of Adoration and Reference to The King of Glory whose Power is matchless. HIS Kingship is forever.
Song Lyrics.
Holy Holy Lord God Almighty
Who was and is, and is to come
What can compare with the fragrance of your love
None can match the radiance of your Glory
Your Glory shines brighter than the sun
All Glorious, You are God forevermore.
King of Glory, Matchless in Power
Blessed be your Holy Name.
Chant…
About the Artiste
Ise-oluwa Olaleye is a Son of God with a Mandate to lead God's people in Pure and Unadulterated worship- In Spirit and in Truth.
He resides in Ogbomoso, Oyo State, Nigeria.
King of Glory is His Debut release. He can be reached through through the social media platforms.
Facebook– Ise-oluwa Olaleye
Instagram– ministeriseoluwa
WhatsApp– 08144304902
Gmail– olaleyeiseoluwa567@gmail.com