Download Koinonia Abuja MIRACLE SERVICE March, 2023 (MP3) with Apostle Joshua Selman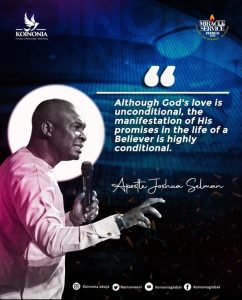 Find below Koinonia Abuja Miracle Service March 2023 with Apostle Joshua Selman Nimmak for Sunday 26th March, 2023. Here are some excerpts from the programme: Although God's love is unconditional, the manifestation of His promises in the life of a Believer is highly conditional. In God's kingdom, a Believer is not at liberty to focus on a preferred spiritual force while ignoring others. Each spiritual force has a role to play in a Believer's life. Beyond acquiring knowledge, doing exploits requires the wisdom of God.
9 Spiritual Forces in God's Kingdom that control Triumph and Dominion are: The Force of Light; The Force of Prayer; The Force of Fasting; The Force of Faith; The Force of Praise; The Force of Favour; The Force of Sacrifice; The Force of Patience; and The Force of The Prophetic.
Click the button to download (45mb)