Download MLR 2019 Messages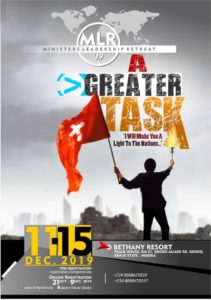 Below are the MLR 2019 messages (Ministers' Leadership Retreat) preached this year by Bro. Gbile Akanni and other Anointed ministers of God.
How to download MLR 2019 messages
Click on the title of any of the below sermons & it will automatically start downloading to your phone or laptop:
N/A by Bro. N/A (N/AMB) – CLICK HERE TO DOWNLOAD NOW
Summit of the Nations (SONS 2019 messages
What is MLR?
Ministers' Leadership Retreat (MLR) is an International gathering of Christians across these globe to retreat, refresh, refresh ourselves for revival and service to our God and humanity through Jesus Christ. The program is held by Living seed media every year at the Bethany resort , Gboko benue state, Nigeria.
The Theme for MLR 2019 is "A Greater Task…" 
Duration: Wednesday, 11th to Sunday, 15th December, 2019.
You may find these useful:
download gbile akanni messages audio mp3, mlr gboko 2019, mlr living seed, mlr peace house gboko, download bro gbile akanni mp3 messages, Gbile akanni 2019 messages, Living seed media messages, bro gbile akanni audio messages free download, free mp3 download of gbile akanni messages, peace house messages, peace house mlr 2019