DON'T COMPLAIN, GIVE GOD PRAISE by Pastor Sam Adeyemi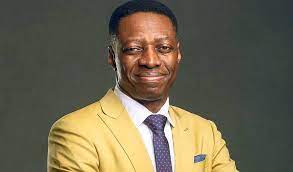 You may be out of control of your situation but God is always in control of your situation you only need to approach him to make a way and not complain, because when you complain you complicate your situation. Scripture reveals that nor complain, as some of them also complained, and were destroyed by the destroyer. You must have a grip on your emotions to have control over your situation.
Negative emotions controls our thought negatively and positive emotion controls our thought positively. Complaining show that you have no control over the situation, it is only revelation that makes us have control over our situation. For it is God who works in you to will and to act on behalf of His good purpose. Do everything without complaining or arguing, so that you may be blameless and pure, children of God without fault in a crooked and perverse generation, in which you shine as lights in the world. Christian is ban from complaining.
Now the people complained about their hardships in the hearing of the LORD, and when he heard them his anger was aroused. Then fire from the LORD burned among them and consumed some of the outskirts of the camp. You need to listen to this sermon till the end for more insight.
Tab below to download DON'T COMPLAIN, GIVE GOD PRAISE by Pastor Sam Adeyemi MP3 (13mb)