PRAYER WORK OF THE CHURCH By Apostle Gideon Odoma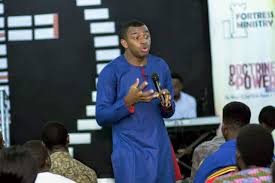 Prayer is the communion that is activated on earth for spiritual connectivity. Prayer is the form of communication that is based on trust in the ability of a party by another. Does God pray? The Holy Spirit intercede for believers with groaning that can not be uttered to God The father. However God the Father is the almighty, most powerful, omniscient and the God of all times. Prayer is not meant to be a seasonal or occasional spiritual rite or sacrifice to be offered to God. Adam and Eve were never recorded to have prayed to God and the ancient patriarch dialog with God.
It was sin and affairs of the world that took us far away from God and we then resolve to meeting God when we need His help. God made man in His image so that they may communicate easily and have fellowship. The Church which is the body of Christ called before the creation of the world and ordained for the manifestation of the glory of God on earth ought to lift hands of fellowship to God not just for personal prosperity but for the fulfillment of God purpose of creation.
Click the below button to download the message now (32mb)