PRESERVED BY LOVE FOR GOD by Dr Paul Enenche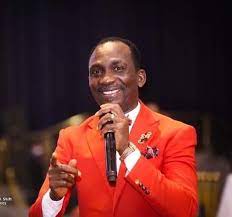 Quoting from scripture: Because he hath set his love upon me, therefore will I deliver him: I will set him on high, because he hath known my name. He shall call upon me, and I will answer him: I will be with him in trouble; I will deliver him, and honour him. With long life will I satisfy him, And shew him my salvation. In this sermon, Pastor Enenche teaches that the objective of the sermon are: To understand God's love for man. To understand what it means to love God. To understand the benefits of loving God. To understand scriptural examples of people preserved by Love for God.
As seen from scripture: He that loveth not knoweth not God; for God is love. The Scriptures made it clear that God does not just have love; that God is love. The highest expression of God's love is towards man. There's nothing God loves much like man. PROOFS OF GOD'S LOVE FOR MAN: God decided to share His nature with man whom He made, God spared not His only son but gave Him up to die for the rescue of man. If He allowed His son to die for your freedom, there is nobody that cannot die for your freedom and God loves His people exactly like He loves His Son Jesus Christ.
God feels the same way towards you like He feels for His Son; whatever He can do for His Son, He can do for you. The highest love of God is man but the problem most times is that the highest love of man most time is not God. If your highest love is not towards God. There is a limit to what you can get from Him. You need to listen to this ser…
Tab below to Download PRESERVED BY LOVE FOR GOD by Dr Paul Enenche MP3 (34mb)