Priesthood By the Spirit by Apostle Edu Udechukwu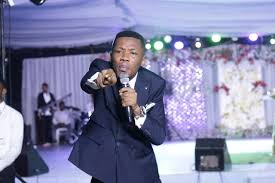 But ye are a chosen generation, a royal priesthood, a holy nation, a peculiar people; that ye should show forth the praises of him who hath called you out of darkness into his marvelous light. A believer is called many things in the scripture, Jesus Himself called believer light, He called believers salt.
The Bible calls us Ambassadors, the Bible calls us many things but then the Bible also calls us kings and priests. Now, our priesthood is a royal priesthood because it has dignity so that we can worship the Lord our God in spirit and in truth. Therefore, God created and redeemed us through Christ to be a special people. If we desire to be a priest of God, we must offer up Spiritual Sacrifices which are acceptable unto the Lord our God. "Ye also, as lively stones, are built up a spiritual house, a holy priesthood, to offer up spiritual sacrifices, acceptable to God by Jesus Christ.
Tab below to download Priesthood By the Spirit by Apostle Edu Udechukwu MP3 (19mb)