DOWNLOAD MP3: THE SCHOOL OF POWER by Apostle Joshua Selman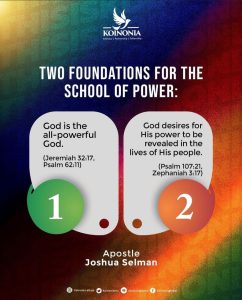 Did you miss today's Koinonia Abuja Service for June 11, 2023, titled THE SCHOOL OF POWER by Apostle Joshua Selman Find below some nuggets before downloading…Power is the ability to do and influence all kinds of outcomes (human, financial, and spiritual). It is the force that compels compliance (Obedience). Every resul (prosperity, increase, abundance) in life and God's kingdom, is attributed to power. The hallmark of dominion is power, not knowledge. What you know is useless, if you cannot use it to alter events, for your destiny. Faith is exclusively, how the power of God operates in the life of a Believer. The assignment of faith, is to connect the Believer to the power of God. It is the power of God that actually produces the desired results. Faith is the conduit for the flow of God's power, and when the power of God is dispensed, there is a demand for compliance.
God programmed His power into laws and principles activated and released by understanding and adherence, not relationship. There are many channels of power; however, the Believer must work in keeping with the principles revealed in scriptures. Ignorance of this has led many into extra-biblical practices. Power accessed through intimacy and the pursuit of God, is the highest dimension of power, accessible by the Believer. It comes as a reward for intimacy with God, requiring more than the understanding of laws and principles.
Click the button to download (41mb)