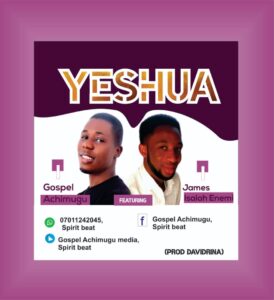 The husband of the church walks in his church as one with the eyes of fire, we know that the flame in His Holy eyes is a reflection of the burning in His heart. He is here as the Refiner's fire purging the house to offer acceptable sacrifice. We sing let your glory Shines on us Yeshua.
Song lyrics
Yeshua
There's fire in your eyes
Yeshua
Let your Glory shines on me
Yeshua
(4*)
Chorus
Yeshua Yeshua
Let your Glory shines on me
Yeshua
Love is shinning from your face Yeshua
Let your Glory fills my heart Yeshua
You are brighter than the Sun
Yeshua
Let your Glory fills my life
Yeshua
Back to Chorus
There's Power in your eyes
Anointing in your eyes
Breakthrough in your eyes
All the angels bows before you
Yeshua
Your face is full of encounters
Full of your grace
Break upon us now
We need your embrace
Chorus
About the Artiste
Gospel Achimugu is a graduate of Physics from Kogi State university, serving currently as a Pastor at Portals Christian Centre Chika, Airport road Abuja. He is a passionate lover of Jesus and His Kingdom who always seeks Him to reveal Him in words and in deeds.
Always visit our website for his latest releases.