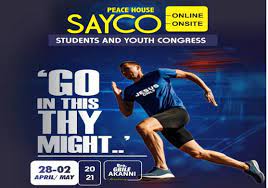 This page contains all the messages preached at the Students and youths Congress (SAYCO) 2021 by Bro. Gbile Akanni and other Ministers. The theme for this year is "Go in this thy might!"
Just tap the title of any of the sermons. It will start downloading automatically.
Download All Students and Youths Congress 2020 Messages With Bro. Gbile Akanni
SAVE A SOUL OUT THERE! SHARE THIS POST TO OTHERS ON YOUR FACEBOOK, TWITTER and OTHER SOCIAL MEDIA PLATFORMS FOR THESE POWERFUL MESSAGES TO REACH THEM TOO.