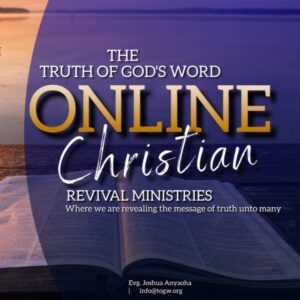 The Truth of God's Word Online Christian Revival Ministries" (T.G.W.O.C.R.M.) is a ministry that is spirituality enriching and strengthening the spiritual lives of thousands of Brethren from around the world.
Our Messages are Holy-Spirit inspired, and undiluted truth which ranges from:
SALVATION, SANCTIFICATION, HOLY GHOST BAPTISM, RESTITUTION, PURITY, HOLINESS, RIGHTEOUSNESS, TRUTH, LOVE, OBEDIENCE and EVANGELISM.
​
We are a ministry raised to reveal God's message of truth unto many.
Our Mission:
1) To bring the light of the knowledge of truth and salvation unto many.
2) To restore what has been lost to the Christendom.
3) And to exposed false teachings, false churches, and the kingdom of darkness; bringing into the manifestation of the powers of God's salvation through Jesus our Lord.