Walking in Purpose By Apostle Joshua Selman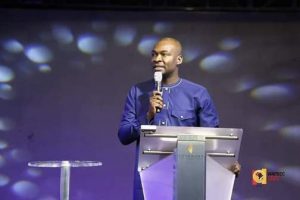 SIZE: 53MB
One of the worst things that could ever happen to a man or woman is to die without discovering and maximizing his/her purpose to the fullest.
In this teaching, Apostle explained the importance of purpose, why you should discover your purpose, how to discover it, and other crucial subjects that can help you maximize your stay on earth planet.
You can never remain the same after listening to this teaching.
Click on the below button to download the sermon now:

ABOUT APOSTLE JOSHUA SELMAN
Apostle Joshua Selman Nimmack is one of the most-sought-after Nigerian preachers. He is the founder of Eternity Network International (ENI), a ministry which he started March 2011 [8 years ago]. He is also the host of KOINONIA, a weekly programme organised by the aforementioned ministry where people from different part of the world come to Worship and Receive abundant blessing under the great Man of God.

DOWNLOAD ALL Apostle Joshua Selman messages HERE