Weapons of  War by NCCF KEBBI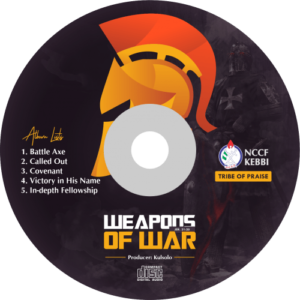 God across every dispensation is known by the dimensions he chooses to reveal himself and in this season, we understand by the spirit of God that he wants to reveal himself as JEHOVAH, the Man of War to our generation.
This dimension will be revealed through anyone who decide to serve as his Battle Axe as God declares war against stronghold, principalities and the worlds system (Jer. 51:20).
God has graced us as a unit in NCCF Kebbi State and this grace has given us a platform for sustainable fellowship with the father, thereby granting us capacity to put these wonderful spiritual songs together as inspired by the Holy Ghost.
Your Spiritual can never remain the same after listening to this powerful album. The content includes:
Download, listen & be blessed!!