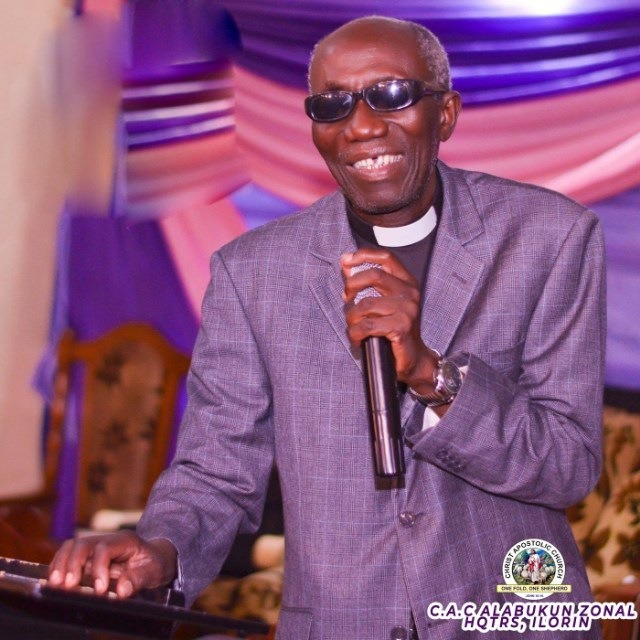 Are you willing to download Pastor Evangelist Michael Olaosebikan Adio Messages on your mobile phone or personal computer? We have lots of sermons by the minister of God. The title and file size of each audio mp3 is specified below. Click on any of the below titles and the download will start immediately:
Biography of Pastor Evangelist Michael Olaosebikan Adio
Man's unalterable destiny is usually a navigated journey of an unseen hand. In the course of that journey, the navigator charts the course and directs the route and such is the life and times of Michael Olaosebikan Adio. Michael was born, sometime in 1937, to the family of Olaosebikan and Ejide Adio of the Baale Ipo's Compound in the sleepy town of Babanloma, in the Ifelodun Local Government Council of Kwara state.
Michael became completely visually impaired, after suffering from a deadly measles disease when he was about nine months old. This impairment charted the course of Michael's life. Michael's mother, Ejide, became visibly worried and ran for spiritual and herbal solutions to her young infant son's problem. This trip took him to several places within the local community of Babanloma.
His father held the chieftaincy title of Baale Ipo which was second-in-command to Oba of Babanloma town. Babanloma was one of the major towns in Ifelodun local government in Kwara state whose headquarters is located in Share. Prophet Adio was not the only child of his parents. others were Jimoh and Awawu. There is no clear cut, as regards the religion of his family. They can be regarded as pagan, since his mother practised idol-worshipping whilst his father, did not embrace any religion either Islam, Christianity or idol worshipping. Even if one was not directly involved, they would partially have a link.
Some of the deities in Yoruba land are Ogun, Oya, Osun, Sango, Elegun, fa, Obatala, among others. However, in recent times, Christianity and Islam have had waves/influence on the everyday activities of the town. Babanloma is known as a stop-over town, especially, Since the major road that linked Niger and Kwara state passed through the local community on the old Jebba road. Michael's parents- Ejide and Olaosebikan were traditional worshippers in the Babanloma community.
In the course of seeking a spiritual solution for Michael's sight problem, Ejide visited so many traditional and Muslim clerics known as Alfa, for spiritual support without success or solution. A particular Muslim cleric in the community that was consulted by Michael's mother- Ejide told mother and son, that Michael may never see, but that he would eventually become a great man and that he saw Michael, upon entering the house, being followed, by two white garment men and that this was evidence of Michael becoming a great man of God in the Christian world. The bewildered mother, asked the stupefied Muslim cleric-, "How would a blind man become a great man of God? I asked that you should help Michael impaired vision to be restored and you are talking of a blind man becoming a man of God." Mother and son left in utter disgust and despair. Not satisfied, another prominent Alfa in the community was approached, who also, upon seeing Michael, and placing his hand on the sand, saw in Michael, a great man in the nearest future and asked that two white doves be offered as sacrifice.
In the course of these travails and agony, Michael lost is father-Olaosebikan Adio in 1945, when he was about 8 years old and thus, left Ejide Olaosebikan to carry Michael's Cross, all alone. Michael was the last of Ejide's children. Many had advised Michael's mother, to either discard or dispose of him, but Ejide insisted that Michael's future is still very bright like a morning star. Before Baba Adio met Jesus Christ as his Lord and Saviour in the 1950s, there was no school dedicated to indigent and disabled students, not to talk of provision for an apprenticeship. But between 1949 and early 1950, Baba Adio was with his maternal uncle, who was a blacksmith, known as "Alagbede" as an apprentice/labourer. His uncle usually gave him one shilling per day as a labour charge/stipend, for his personal upkeep.
He was on this job when he met Christ through his mother's sister, Hasana. The transformation in his life started with God and the assistance of Samuel Ajigbotoluwa Oyekunle, a CAC Elder from Ilobu near Osogbo. Samuel Ajlgbotoluwa Oyekunle was a trader in textile materials. God used him for Prophet Michael Olaosebikan Adio, Because he was the one, that used to sew clothes for him and replaced the old ones with new ones. According to Baba Adio, the memory of this man would ever remain evergreen, In his life due to his good deeds, towards him.
The Babanloma community had UMCA, as its first church, that had come to fight idol worshipping and idolatry behaviours among the townsfolk.Michael had become very fervent and ardent in blacksmithing and was already looking up to a future, of a little, as a blacksmith. The story began to change when Ejide's younger sister took Michael and her ailing daughter for spiritual respite at a newly established C.A.C church in Babanloma.
The C.A.C, was newly established under the leadership of Pastor J.P Oawale from Ikirun in January, 1951. The minister of God, saw in Michael, a future great man of God in the vineyard. Michael was baptised and was Stantly endowed with the gift of the Holy Spirit and dreams. He had begun immediately to take part in the Holy Communion.
Also since 1952, According to Michael, the Holy Spirit had planted unto him the entire Holy Bible from Genesis to Revelation, which he uses with a great Pastoral skill. He quotes from the Bible with ease, without having the opportunity of seeing what the bible looks like.Unbelievably, having been blind from about nine months, he had never seen the four walls of a class room and still speaks English with remarkable skill and gusto.
In December 1957, there was an annual meeting of the entire Church District at Babanloma his hometown, that was presided over by the District Superintendent of the C.A.C- Pastor S.Akinade, who came from Oyan, the District headquarters of the C.A.C. Akinade, a native of Ibadan, sighted and discovered the immense spiritual gift in Michael Adio and asked him to pray for him. He prayed for the District Superintendent and prophesied into his life, with point-blank prophesies that marvelled the superintendent and quickly responded that this huge spiritual deposit could not stay in this village- Babanloma and quickly requested that Michael be transferred immediately to his office- the District Superintendent office in Oyan, now in present-day Osun state.
Certainly, the C.A.C community in Babanloma, Share, Pategi were not happy about the loss of a Prophet and a Prayer warrior to the District Superintendent's office in Oyan. in January 1958, Prophet and Evangelist Michael Adio, eventually reported for duty and Pastoral training at the C.A.C mission House at Oyan.
The training was supposealy for a period of six months, but because of Michael Adio's role as an evangelist and a prophet, he eventually stayed at Oyan for about 5 years. The District Superintendent, was certainly reluctant to release him to other mission houses of the C.A.C. In-between this period of 1958 to 1962, as a result of the transfer of the presiding pastors and evangelists in Ilorin (C.A.C Taiwo road, Ilorin) and C.A.C Babanloma, Michael had to be shuttling between llorin, Share and Babanloma on an evangelical mission.
During this period, he travelled mostly on foot and bicycles, despite his visual impairment and most times, even barefooted. At this early period of his ministry, transportation was very difficult and also there was inadequate access to motorable roads. The C.A.C mission of this period was certainly being highly rated as a great Pentecostal church. Apostle Babalola tor 50 yearS, until his passage in 1959, had certainly blazed the trail, as Church Alatewo and "Olomi iye". In 1963, Prophet/Evangelist Michael Olaosebikan Adio, was formally transferred to the CAC Church headquarters (Oke- Isegun) Taiwo Road, Ilorin. During this period, the Christ Apostolic Church had grown tremendously in size and population and new missions were regularly being planted by Michael in present towns and villages in present-day Kwara state.
People had seen in him, a great man of God, a proselytizer of the Christian religion and a point-blank prophet. It is only a man after God's heart that can have a special relationship Prophet/Evangelist Michael Olaosebikan Adio is endowed with, considering the events after his birth. It will forever remain a mystery to all of us that a man who did not see the four walls of a classroom, will know all the verses in the Bible offhand.
What can be responsible for this if not a divine encounter with God? Before the emergence of Christ Apostolic Church, otherwise known as CAC in Babanloma, the only Christian congregation in the town was UMCA. Perhaps one cannot say vividly, whether Mama Ejide. had visited the church for her son's spiritual and physical healing, or whether, she was sure that the healing, would come from the traditional diviners.