BISHOP DAVID OYEDEPO PDF Books Download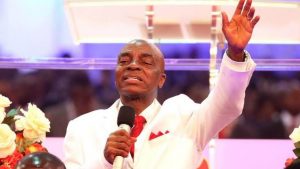 This page contains pdf ebooks by BISHOP DAVID OYEDEPO that you can easily download and read to improve your life.
How to Download BISHOP DAVID OYEDEPO ebooks:
The download is very simple and easy. All you need to do is to click on any of the below titles. The download will start in less than 2 seconds.
Please don't forget to share this post on your facebook/whatsapp right now so that other people can download these life-transforming books.
---
The family of Ibrahim and Dorcas Oyedepo were blessed with the birth of a son on 27th of September in the year 1954, and he is David Olaniyi Oyedepo from Omu-Aran in Kwara State, Nigeria. He got born again in the year 1969 while in secondary school, and later worked with the Federal Ministry of Housing. It was in 1981 that he received the revelation for ministry. He was eventually ordained in 1983, alongside his wife whom he had married in the preceding year. Living Faith Church started in Kaduna and eventually got relocated to Lagos in 1989.
---
Wait, Before you go…!
Here are some other books available for you:
---
DISCLAIMER!!!
We do not claim ownership of any of the files on our website. They remain the properties of the original content creators. We only upload them for the Edification of the listeners.
Please, if we have infringed on your copyright or someone you represent, and You want your media files removed from our database, send a mail to "admin@naijasermons.com.ng" right away, we will remove them all in less than 2 hours. Thanks for your understanding sir/ma. To read more about our Content Removal Policy, CLICK HERE.