Do you find it difficult to Evangelise or preach to people online?
Are you always afraid to tell people about Jesus Christ on your social media timeline? 
Would you like to Overcome this fear & become a massive soul winner on the digital sphere???
If you just said Yes to any of the above, then this conference is for you!!
The Digital Evangelism Conference by OCDM is a power-packed conference organized to equip you with virtually everything you need to start winning souls for God via the available Digital platforms.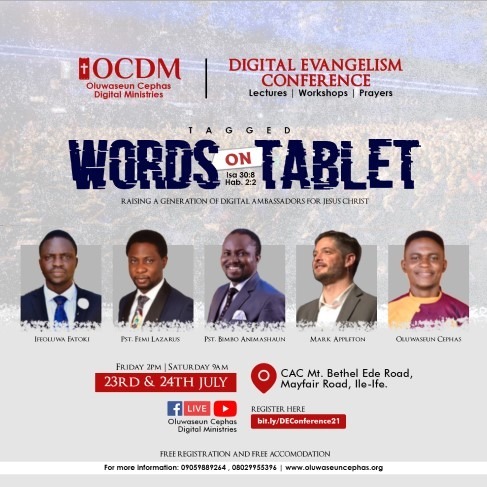 The good news is that both the Registration & Accommodation is FREE for the entire 2 days!!!
That's not all; you will also enjoy the Lecture, Workshop & Prayer sessions that will transform your life there.
The conference will hold between Friday 23rd to Saturday 24th July, 2021. 
The location is CAC Mount Bethel Ede Road, Mayfair Road, Ile-Ife Osun State, Nigeria.
CLICK HERE TO DOWNLOAD MESSAGES FROM THE CONFERENCE