RCCG Convention 2020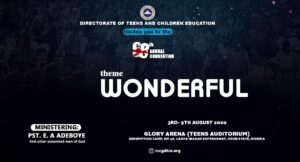 The Holy Ghost Convention is a power-packed programme hosted by the Redeemed Christian Church of God, RCCG.
It's a week programme (usually held during the first week every August) at the Redemption Camp in Ogun State, Nigeria. The convention is usually preceded by a Minister's conference, and is attended by Children,Youths and Adults from different races and denominations.
CLICK HERE TO DOWNLOAD ALL PASTOR ADEBOYE MESSAGES TILL DATE
When is RCCG Convention 2020?
RCCG Convention 2020 will take place between Monday, 3rd to Sunday, 9th August, 2020. What makes this year's 68th Edition unique is that it will be an exclusively a virtual meeting – due to the current pandemic.
The convention will be held 12pm, 4pm, 5:30pm and 7pm (WAT) Daily.
What is the theme for RCCG Convention 2020?
The Theme for this year's convention is WONDERFUL. This was revealed in a tweet shared by the General Overseer, Pastor E.A Adeboye on his timeline a few months ago.

How to Stream/Follow RCCG Convention 2020 Live Online
Since the conference is a Virtual one, you can follow the programme live on DoveTV, YouTube and other media channels owned by the Minisrtry.
Alternatively, you can stream this programme Live on our website. Click here to Start Streaming Now!
RCCG Convention 2020 Schedule
Below is the schedule of programme for RCCG Convention 2020: