ACTIVITIES OF MR FLESH by Gbile Akanni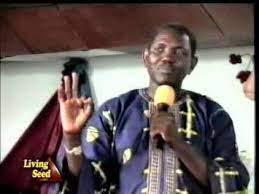 The activities of a lower nature are obvious, here is a list: sexual immortality, impurity of mind, sensuality, worship of false god, witchcraft, hatred, strife, jealousy, bad temper, rivalry, factions, partying spirit, envy, drunkenness, all these things like that.
To know that the heart of flesh cannot please God, it cannot serve God, in fact, anything flesh touches in the purpose of God is contaminated, anything that comes from the flesh cannot please God. When man was trying to sown leaves to cover himself, God look far beyond, He slaughtered an animal to make skin, even this is not redemption. God made a redemptive decision, God chased them away from the garden because He did not want to immortalize the flesh.
From this passage God was saying though flesh took over, it must not live forever, it means there is an end to Mr. Flesh. There is an end God want us to experience to the works of flesh in our lives. Our priority is how God will bring flesh to an end in our lives. We don't want to suppress flesh, even though we suppress it for two or three years, the day it will wake up, it will still strike and spoil all you have done for years.
Tab below to download ACTIVITIES OF MR FLESH by Gbile Akanni MP3 (15mb)