DOWNLOAD MP3: Deliver Us From Evil by Apostle Joshua Selman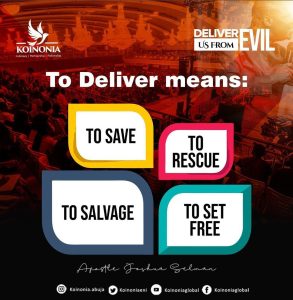 To deliver means: To Save, To Salvage, To rescue, To Set Free. You must be intelligent enough to know to navigate challenges that arise from your open doors. Three levels of Evil Believers must Contend for Deliverance from: Wicked Spirits and Satan; Wicked and Unreasonable Men; The Flesh. Certain flesh tendencies only get activated by certain conditions and level of life. You cannot claim integrity if the opportunities to compromise have not been presented to you. Stepping through open doors unprepared can lead to pain and difficulty; so God closes certain doors, as an act of mercy.
Humility and submissions are Biblical requirements that Believers must meet, in order to access Deliverance from God. To obtain mercy, you must be humble enough to approach the throne of grace by faith; it takes mercy before favour arises. Deliverance comes in response to prayers; you can pray away negative and unfavorable seasons from your life. Praise is a deep mystery that assist a Believer in overcoming and grants the ability to stand, until victory is attained. When you know how to engage prayer, praise and God's mercy, any situation can turn for your salvation.
Click the button to download (51mb)