DOWNLOAD MP3: FREEDOM FROM FINANCIAL CAPTIVITY by Apostle Joshua Selman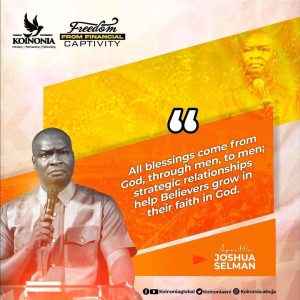 Did you miss today's Koinonia Abuja Service for April 16, 2023, titled FREEDOM FROM FINANCIAL CAPTIVITY by Apostle Joshua Selman Find below some nuggets before downloading… You can prosper and serve God with the dignity of Kingdom integrity. The 5 Terms to note for Financial Freedom from Capitivity: Prosperity – in its simplest expression, the word "Prosper" means to do well and excel; Riches – The word "Riches" simply means: abundant financial resources; Wealth – Wealth is abundant resources plus the systems that guaranee replenishment or continuity; Poverty – Poverty refers to the absence of financial resources, as well as the absence of knowledge and intelligence that guarantee productivity; Lack – lack depicts insufficiency, it is the absence of adequate resources to meet one's needs, especially when required.
5 Levels of Prosperity are: Spiritual Prosperity, Mental Prosperity, Bodily Prosperity, Financial Prosperity, and Relational Prosperity. Productivity is the ability to translate value into products and services, packaged and served excellently to a targeted consumer base. All blessings come from God, through men, to men; strategic relationships help Believers grow in their faith in God. Do not expect astronomical returns by ignoring strategic relationships; the need of everyone is their point of contact.
Click the button to download (47mb)