DOWNLOAD MP3: The Exceeding Great & Precious Promises by Apostle Joshua Selman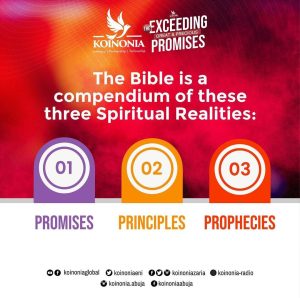 The Bible is compendium of these three Spiritual Realities: Promises, Principles and Prophecies. You can never manifest the reality of open doors using the keys in ignorance. The Kingdom of God functions on high-level spiritual illumination. An ignorant Believer will remain defeated. Doors open when the foundations that hold them are rattled with the right keys and light. Your dominion in God's Kingdom is predicated on your thorough understanding of His promises, which are embedded in the word. Your speakings and responses to negative circumstances in your life, should reflect in your life, should reflect your conviction of God's promises in the Bible.
Two Spiritual Principles that Govern engaging the right keys to Open doors: The knowledge of the spiritual provisions available to the Believer in Christ; The faith to engage God's promises so that they deliver. Obedience to God's word is the only way to commit God's integrity to perform on your behalf; no amount of spiritual sacrifice will substitute for the place of obedience. Commit to praying scripturally-baser prayers and speaking God's Word on faith over your life and destiny daily; This is a requirement for living a life that brings glory to God. In God's Kingdom, no-one rises by accident. There are scriptural mysteries that are engaged to birth results in the physical realm.
Click the button below to download (57mb)