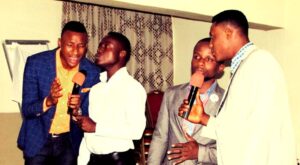 Are you a lover of amazing Acapella songs? This is for you!
I am Emmanuel Umoren, and I make acapella videos on YouTube, Instagram and Facebook page. I intend to have enough views, subscribers, likes and comments on those platforms to encourage me in what I do.
Your support by subscribing to my YouTube channel, liking the videos there and following me on Instagram and my Facebook page will go a long way.
As you see the videos, please share if possible and God will bless you even more.
My YouTube channel is Emmanuel Umoren.
Facebook page is Emmanuel Umoren
Instagram is @emmy_acapella
Note:
1. The songs are majorly gospel Acapella songs that I composed and others are covers of other songs.
2. The songs were not done in any studio but solely on my phone.
3. Feel free to message me privately to criticize the videos and tell me things I can improve on.
SHOW ME SUPPORT ON THOSE AREAS.
I appreciate you in anticipation.
I AM STILL A WORK IN PROGRESS