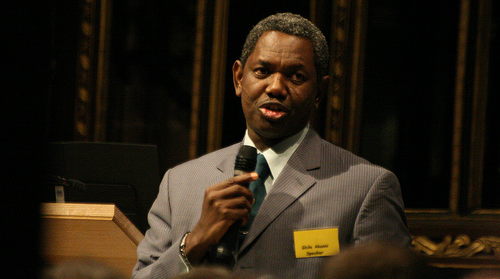 Sermon Title: INSTRUCTIONS FOR EFFECTIVE AND FUNCTIONAL MATRIMONY PART 1 and 2
Sermon by: Bro. Gbile Akanni
File Size: 21mb + 63mb
SUMMARY OF "INSTRUCTIONS FOR EFFECTIVE AND FUNCTIONAL MATRIMONY" BY BRO. GBILE AKANNI
Prov.18:16 Every time God is bringing two people together in matrimony, He has already seen ahead of them. God does not do this casually but with careful knowledge. This is what makes Christian marriage a wonderful experience because God does not mismatch. God does not join conflicting bones together.
Marriage is a marrying together of the divine gifts that God put in you individually. If it is properly done, marriage is a combination of gifts. A marriage is not meant to be a suspension, a disruption or a discarding of the gifts of God in your life. For your marriage to be great, you must not stifle the gift of God in your wife. You must not disregard the peculiar endowment of God in your husband.
Whatever God has put in your husband or in your wife, is to be nurtured unto expression and outburst.
Every gift on the inside of your spouse is for you and that is what will make a way for you. Prov.18:16 When a man is operating in his gifts, you do not struggle because it will be making room for you.
A man that is not walking in his gifts will be struggling to find space. As you settle in marriage, learn to discover the peculiar gifts and grace then concentrate on nurturing it and as it is combined, your ministry will find expression.
You do not need to lobby to see great men, just nurture the gift of God in your life. This is what sets the foundation in marriage. The woman in your life, is meant to bring you into greatness.
Prov.18:17 Marriages scatter sometimes because of assumptions and presumptions. Your greatness is jeopardized when you conclude that you are right in your own cause. It does not reduce you if you listen.
A teachable man only grows wiser. An argumentative man throws away wisdom. As a husband or a wife, give allowance. Make room for second opinion. When you argue with your husband, you will not conquer.
The way forward is not the way of insisting. The second opinion will add wisdom to your life. Take steps that are right on target so as not to live on presumptions. Do not resist the criticism of one who knows you well. Allow your wife search you out.
This, however, is not a license for destructive criticism. Endeavour to come with gentleness. Do not insist on your own way.
Prov.18:18 Do not let your marriage run on contentions. Do not allow for external influences.
Prov.18:19 Always ask for mercy so as not to lose your spouse. Avoid contentions totally. It cost you nothing to let go.
You can't afford to miss this message, download the audio sermon BELOW:
Helpful texts:
living seed messages download, gbile akanni messages, Bro Gbile Akanni marriage mp3, gbile akanni teachings, living seed messages download, gbile akanni messages mp3, gbile akanni audio messages, gbile akanni sermons, download gbile akanni messages, bro gbile akanni messages, gbile akanni messages on marriage. 
WHO IS BRO GBILE AKANNI?
Bro. Gbile Akanni is a renowned Nigerian Preacher, author and teacher of the Word. He is the president of 'Living Seed', a trans-denominational ministry which is situated at Gboko, Benue State Nigeria. This great man of God is known for his in-depth knowledge of the word of God and undying passion for the souls of men.