Koinonia School of Ministry (KSOM) Admission List 2021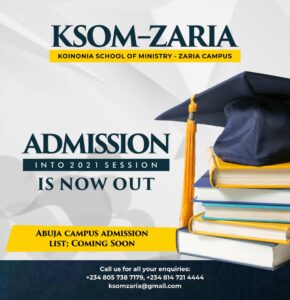 Did you apply for the recently-closed Koinonia School of Ministry Application form 2021??
We are very delighted to inform you that the Admission list for this session has been released.
After Admission, WHAT's NEXT??
If your name appears on the admission list, the next thing to do is to:
1. Make a deposit of Five Thousand Naira Only to the following account details using your FULL NAME and YOUR SERIAL NUMBER as it appeared on the Admission List [e.g. Depositor's Name: Solomon David/001]
Account Name: Eternity Network International
Account Number: 0113343316
Bank: Guaranty Trust Bank
Account Type: Current Account
Please note that electronic transfer of any form WILL NOT be accepted. Only Payments made in the Banking hall using the Bank Teller will be accepted.
2. Submit the ORIGINAL COPY of Bank Teller/Receipt and a recent passport photograph to the Administrative Team Desk, Rhema Chapel International Churches, Samaru, New Extension, Zaria between Monday 8th to Friday 12th February, 2021. Time: 10.00am to 4.00pm.
---
Would you like to know more about Koinonia School of Ministry, CLICK HERE NOW