Koinonia School of Ministry (SOM) Zaria/Abuja 2021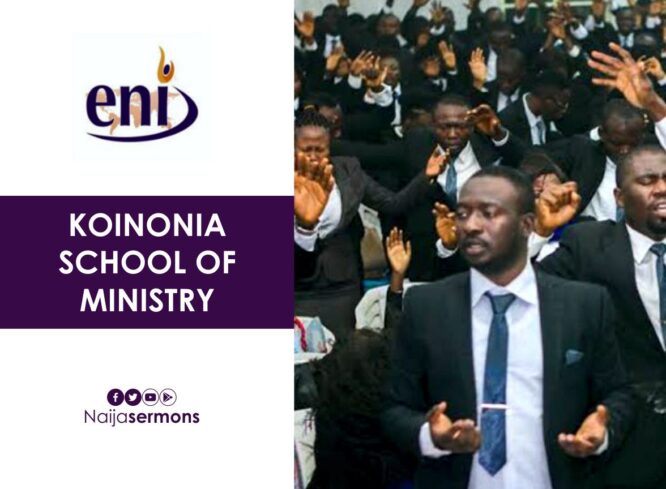 Koinonia School of Ministry (SOM) is a training program anchored by Eternity Network International to help mentor and equip young ministers and other Kingdom advancers to be more productive and efficient in their respective area of calling.
The school was launched in 2013, following a divine instruction received by Apostle Joshua Selman Nimmak, the founder.
S.O.M. courses are carefully designed to help you know and grow to be like Christ and to understand the principles that govern results and efficiency in the kingdom.
The school provides a platform for adequate Mentorship and Impartation, making it ideal for both conventional ministers and other Kingdom Advancers.
Who Can Attend Koinonia School of Ministry?
The S.O.M is suitable for people who wants to be rightly mentored and equipped with the principles required to be effective and productive in their respective area of calling, including Business men, Professionals, Church Leaders, Media personnel, and many others.
Why Attend Koinonia School of Ministry?
The School of Ministry helps you discover what God has called you to be and do and equips you with the principles required to make you effective so that you can bring maximum productivity to the Kingdom.
Additionally, when you attend ENI School of Ministry, you are opportune to learn directly from Apostle Joshua Selman Nimmak, Pastor Alfa Meshach, Pastor Isaac Adinoyi, Pastor Femi Jolayemi, and many other leaders of the institution.
What's the Duration for Koinonia School of Ministry?
Koinonia S.O.M. holds for about 7 months, or approximately a year.
Is Koinonia SOM a full time or part time program?
It is more or less a part time program, however, there are times that you will be required to attend fixed classes during the week, within short notice.
When are the Lectures Held?
Considering the previously-concluded session, the school of ministry lectures hold on Saturdays (8.00AM to 12.00PM) and Sundays (3.00PM to 6.00PM).
In order to catch up and not keep the students more than necessary, fixed lectures are often arranged for week days from 6.00PM. This however, is not a continuous thing.
Have You Read This: Everything You Need to Know About RCN's Adullam Bible Seminary >>>
Where is Koinonia School of Ministry located?
Currently, the school has two campuses. The first is located in Zaria, Kaduna State, while the second is in Abuja, Nigeria.
Is Koinonia School of Ministry Form 2021 out?
The registration portal for Koinonia School of Ministry 2021 has been closed till further notice.
How much is Koinonia School of Ministry Application form?
The Application form is FREE.
How much is the Tuition or Registration fee for SOM?
Currently, the ministry does NOT charge any amount as the Tuition. You are only required to pay a token of #5,000 or $11 for Registration.
Can Foreigners Apply for the Programme?
Due to the intensive nature of the koinonia school of ministry programme, all students will be required to be fully on ground [either in Zaria or Abuja] for the period of the programme.
Hence, applicants outside Zaria or Abuja are advised to make adequate plans for their accomodation and upkeep as the School Administrative Team would not be responsible for that.
How can I Apply for Koinonia School of Ministry?
Here's how to apply:
STEP 1. Fill and Submit the Application form online
This is the first step. Click here to Apply now
Log on to Koinonia official website or social media platform to download the Application/Referees form.
After the download, you will print out two (2) copies of the Referee's form and give two of your Referees to fill.
Once the two forms have been successfully filled, you will then Scan them; in PDF format only and save them with your full name and the numbers 1 and 2 respectively for referee form 1 and 2.
After that, proceed to fill the Application form through the Online Application link (not yet available) and submit.
Be sure to click the SUBMIT button so your application can be submitted to the appropriate quarters for considerations.
Note:
Your Referees MUST be Leaders in a Local Assembly/Fellowship/Ministry/Church (not lower than a Head of Department/Unit) or a Leader of a Christian based organization where you work.
Additionally, there must be clear evidence of a working relationship between you and the Referees, and they must also be people of proven Integrity.
Click Here to Download All Apostle Joshua Selman Messages Till Date >>>

STEP 2. Wait for The Admission List
The ministry, whenever they deem it fit, will upload the list of candidates who successfully made it to the Admission list on their official website and social media platforms.
Therefore, be sure to check the platforms regularly to be abreast of any information regarding the admission list.
STEP 3. Pay Your Registration Fees
Once the Admission list is released, the ministry will release detailed guide on how to pay your registration fees and also the exact date to resume for lectures. Please note that the registration fee is #3,000 or $10 (as at 2019).
STEP 4. Resume for Lectures
As earlier stated, details about resumption will be released on Eternity Network International's website and social media platforms immediately the admission list is released.
Can a Foreigner apply for Koinonia School of Ministry?
As a Foreigner, you can apply for SOM, however, you must be ready to secure accommodation around the school in Zaria, Kaduna State or Abuja as you will be required to be physically present for lectures.
If you are applying outside Zaria or Abuja, you are to briefly state your  plans for accommodation and upkeep in the space provided on the application form.
Kindly note that inadequate accommodation and upkeep plan will lead to automatic disqualification.
Is there provision for Accommodation?
No, the school does not offer accommodation for students who are not resident in Zaria.
To relieve yourself the stress, it is recommended that you secure accommodation around the School premises in Zaria, Kaduna State or Abuja.
You can contact the Public Relations unit for more details. Depending on certain factors, you can get a room starting from #50,000 or $120 per year.
Koinonia School of Ministry Admission List 2021
WARNING!!!
Koinonia does NOT have any affiliate, thus, shun any person or group that claims to be such on different social media platforms.
If you want to know more about the bible school, or School of Ministry, kindly reach out to the ministry via the following channels:
08057387179 (Public Relations Unit))
08147214444 (Public Relations Unit)
09077777853 (Complaints/Inquiries Unit)
07087777765 (Protocol Unit)
koinonia school of ministry messages, koinonia school of ministry form 2020, Koinonia School of Ministry, eni school of ministry zaria, eni school of ministry admission 2020