Rhapsody of Realities Devotional for Today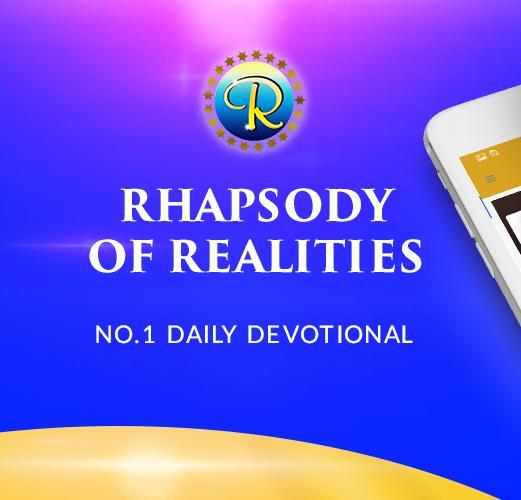 Would you like to read Rhapsody of Realities daily devotional for today, plus prayer points? You're on the right page…!
On this page, we have the devotionals for every blessed day, in a chronological order. All you need to do right now is to scroll down a little to the actual date you need, and then click the topic – the write-up will display instantly.
*Note: If you don't want to keep visiting this page every time you need the devotional, you can install our mobile app instead. It is very easier to access there. CLICK HERE TO INSTALL RIGHT NOW!!!
Rhapsody of Realities Devotional for SEPTEMBER 2021
About Rhapsody of Realities

Rhapsody of Realities is a devotional by the Loved world Incorporated (aka Christ Embassy). It started in 2001 It is a devotional that helps in building growth of many people spiritually. It is otherwise called "Messenger Angel". It exposes people to the whole counsel of God, as it opens them up to God's will through in-depth teachings of his word. This devotional covers a wide range of topics from different spheres of life.
Some of which include: "God's Kingdom, Love, Victory, Salvation, Righteousness and Holy Living, Wealth and Finance, Values and Virtues, Relationship, Lifestyle, etc". Aside the topics and the message, the devotional also has the daily confession segment whereby believers can command things into their day. And it also has a Bible reading plan that help believers in building their relationship with God and strengthening their faith.
These devotionals is said to have been used as a powerful tool in the area of evangelism. It brings about effective soul winning. It has reached millions across the world and drawn many of them to Christ. It is one of the most distributed and the most translated book in the world. It has partnership with over 21 million people across different nations of the world.
Pastor Chris Oyakhilome is the Founder and General Overseer of Loveworld Incorporated (Christ Embassy). He was born on the 7th of December, 1963 in Edo state Nigeria. He was a student of Edo College. He studied Architecture at Bendel state university. While in the university, Chris preached the gospel to students, and then organized a student fellowship known as Youth for Christ. Later on, they grew in number, and this became the foundation of Christ Embassy. The church was established in 1987, the headquarters is located in Lagos.
After a few years the ministry increased massively with massive influx of souls from different places. It currently has many branches across several cities of the world.  Pastor Chris is a seasoned teacher of God's Word, and he is as well anointed. He holds many healing and miracle meetings. In such meetings, many healings and deliverances are recorded. He also holds conferences and crusades around the world. He is an author of many books, including the Rhapsody of Realities.
Rhapsody of Realities devotional for today, prayer points, pdf download, read online