Scripture Union Daily Guide for Today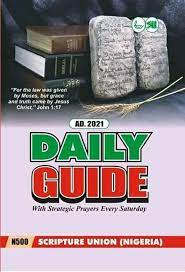 Would you like to read Scripture Union Daily Guide for today, plus prayer points? You're on the right page…!
On this page, we have the devotionals for every blessed day, in a chronological order. All you need to do right now is to scroll down a little to the actual date you need, and then click the topic – the write-up will display instantly.
*Note: If you don't want to keep visiting this page every time you need the devotional, you can install our mobile app instead. It is very easier to access there. CLICK HERE TO INSTALL RIGHT NOW!!!
Scripture Union Daily Guide Devotional for SEPTEMBER 2021
About Scripture Union Daily Guide

Scripture Union Devotional is a product of the Scripture Union International. This devotional is for the edification of the saints. It has a wide range of topics, from different categories like Faith, Love, Grace, God's Kingdom, Virtues and Values, Relationship and Marriage, etc. It is also a devotional that teaches people how to be victorious in this cruel world. Many have been opened to the wisdom of God through this devotional
It contains scriptures, powerful messages and prayer. It brings light and understanding to those who needs it. It brings peace and comfort to the hearts that are weary, and it also addresses pressing life issues. Take advantage of this opportunity to explore the wonders of God that are locked in His Word. This devotional will guide you well.
Scripture Union International is an interdominational christian organization which was founded in 1867 by Josiah Spiers in England. It was when he talked to 15 children in a drawing room in Islington, London. So he started sharing christian message with children in a manner that related to their desires and needs.
This became the foundation of the Children's Special Service Mission (CSSM), which later became Scripture Union. One day in Llandudno, North Wales, Josiah Spiers was on an holiday, he began telling the children in that place about his faith. Then he drew on the sand, "God is Love", and he invited the children to decorate it, then he told them a Bible story.
In 1879, CSSM began the Children's Scripture Union. It was a daily Bible reading structure. So as a member, you have a list of daily Bible readings, with an addition of explanatory notes in children's magazine.
In 1885, Scripture Union came to Nigeria. Today, they have 37 travelling secretaries, 10 regional coordinators and 5 HODs, all in charge of mission work in Nigeria. SU (Nigeria) operates in primary, secondary and higher institutions.
They organize Holiday Camps, Rallies, Morning Devotions, Leadership trainings for student leaders, Quizzes, Bible study fellowship meetings, support to churches, etc. The Head Office is located at Oyo Road(Opposite Old Airport) PO Box 4011 (UI) Post Office Ibadan, Oyo state, Nigeria.
Scripture Union Daily Guide for today, prayer points, pdf download, read online