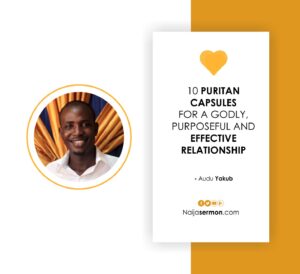 If you intend to go into or you're already in a relationship with the opposite gender, please take time to read this timely piece.
Let's get started…,
10 PURITAN CAPSULES for a Godly, Purposeful and Effective Relationship
#1. Say NO TO SEX: sex is only ordain for couples. Never rush for it now, be patient and wait for the best time. Tame yourself and flee when necessary. Flee from the guy or lady that always demand for sex. NOTE; sex is a covenant, so guide your body with all diligence.
#2. SAY NO TO ROMANCE; Anything that trigger sin, is sin itself, romance is a pointer, a trigger that trigger us to sin. Avoid it, it corrupts relationship. Our body is never to be misused. Wait for the best time. Our body is only and only made for your wife/husband. Hug, kiss may not be necessary, as we all have different libido systems. They are all triggers.
#3. BE PRAYERFULLY MINDED: for the fact that you decide to build a Godly and happy home the devil will never send you a congratulatory letter, he keeps attacking and keeps setting traps. Always pray for one another, pray/fast together always if necessary. Always ask for God's guidance. Prayer is a building block.
#4. FOCUS ON GOD ALONE: Focus and dedication keeps your driving wheels excelling in life, when there is no focus there cannot be any progress as long as you keep the kingdom of God in Focus, you will never miss his goodness. Don't focus on the guy/lady. Always focus on God as he alone will accurately reflect the true image of your spouse. If you keep focusing on the guy/lady you may be disappointed. Focus on God alone not your spouse.
#5. LET YOUR PURSUIT BE KINGDOM BASED: The Nobles don't marry because of love, they marry because of kingdom. Your pursuit at all-time should not only be material things but the kingdom of God. Try to please God not your spouse, for if you are faithful in pleasing God you will equally please your spouse.
#6. BE PURPOSEFUL: purpose is the role key to a greater fulfilment in life. A relationship without a purpose is like a football match without a goal post. Relationship shouldn't be anyhow but purposeful. We are beings of purpose and we are made to fulfill purpose. Understand the reason why you are going into the relationship.
#7. GROW TOGETHER: building your man/lady is of a greater advantage, grow together with your man/lady, try to be like-minded, always be ready to accept correction, hence correct in love.
#8. PLAN TOGETHER: GREAT planners invite the future before the future comes with a clear plan. Great planners see the future before it comes. Always plan together and achieve together. Involve God in all your planning, a threefold cord cannot easily be broken.
#9. AVOID DARK PLACES; minimize or Avoid private or dark place as this is also a trigger for lust. NOTE: EVERY adult guy/lady responds to stimulus no matter their anointing.
#10. ALWAYS BE LED. For as many that are LED by the spirit of God they are the sons of God.
About the Author 
AUDU YAKUB is a multi-talented writer, and poet from kaduna, Nigeria. He writes inspiring articles on purpose, relationship, and many other important issues of life. You can follow him on Facebook to read more articles by him.