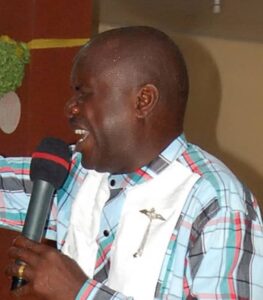 Adisa Olumuyiwa is the president of the Gapfillers' Network International (an interdenominational body of Intercessors) and the lead Pastor of Graceland Christian Centre, all in Eruwa land, Oyo State, Nigeria.
He met the lord as a teenager while in the Upper Secondary Class at the Prestigious Loyola College. He was thereafter baptised in the Holy Ghost with the evidence of speaking in tongues which aided his growth spiritually.
Pastor Adisa Olumuyiwa is a graced man . God exposed him to intercession very early as a believer under the leadership of men and women at the Anglican Youth Mission and All for Christ Evangelistic team (AFCET), all at Ibadan.
He studied Mass Communication at the Polytechnic Ibadan, Eruwa Campus. In the year 2000, he was instructed to go back to Eruwa and serve the course of destiny.
Today, the lord has proved himself and still proving that he sent him. God by his hand has raised sons and daughters for the Kingdom. And like he use to say, " The Lord has raised me to reveal him to my generation, you cant meet him and not have a desire to know God.
By the grace of God, apart from running errands for his Master, Pastor Muyiwa is the CEO of Steppingstone Private Schools and the Cornerstone Heights College, Eruwa.
He is Happily married to Pastor Feyisara and blessed with Children. His heart desire is to see men know the lord and grow to the stature of Christ.