Biography of Pastor E.A Adeboye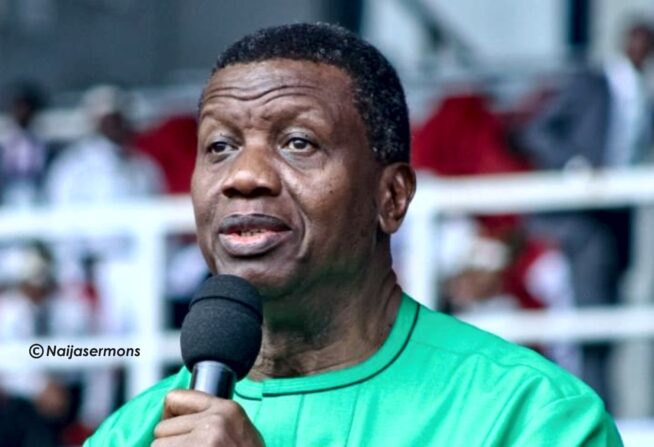 Pastor E.A Adeboye is a man of God that has continued to make impact in the lives of many, he is also a father to millions of Christians all over the world.
You will get to know more about the man of God in this piece.
Kindly Read through!
Quick Facts
Here are some quick biography facts you should know about Pastor E.A Adeboye.
Full Name: Enoch Adejare Adeboye
Church Name: The Redeemed Christian Church of God (RCCG)
State of Origin: Osun State, Nigeria.
Birthday (Age): March 2, 1942 (78 years old)
Course Studied: Applied Mathematics
Wife: Pastor Mrs. Foluke Adeboye
Children: 4 (Adeolu Adeboye, Bolu Adeboye, Dare Adeboye and Leke Adeboye)
Mentor/Spiritual father: Pa. Akindayomi
Personal Contact:  @PastorEAAdeboye (Twitter)
Early life, Childhood & Life Before Ministry
Pastor Enoch Adejare Adeboye was born on the 2nd of March, 1942 into the family of Late Mr. Moses & Mrs. Esther Adeboye.
He is an indigene of Ifewara village, close to Ife, in Osun State, Nigeria.
One of the most inspiring things you need to know about this great man of God is that he came from a family with a very serious economic challenges.
In fact, he once shared in a recent interview that he couldn't afford a pair of school sandals at age eighteen.
Another thing is that his father is a peasant farmer, and doesn't believe that much in formal education.
On the other hand, Adejare Adeboye has an undying passion for education such that he decided to avoid eating for certain period of time just to gain the support of his parents to go to school.
After persuading his parents for a very long time, they later agreed to sell one of his father's goats to get money for his tuition fees. He was later enrolled in Ilesha Grammar School, Ilesha in Osun State (the only mission school in the village then) in 1956.
During his days at the secondary school, he began to develop intense passion for Mathematics & Sciences.
After completing his secondary education, He gained admission into the University of Nigeria, Nnsukka – but it's very unfortunate that he had to drop out in 1966 due to the outbreak of Nigerian civil war that year.
Despite these challenges, God made a way for Enoch Adeboye and he was able to bag his first degree (BSc.) in Mathematics in University of Ife (1967).
He further attended the University of Lagos where he obtained his Masters (MS.c) degree in Hydrodynamics as well as a Doctorate degree (Ph.D) in Applied Mathematics.
In addition to that, he was conferred an honorary doctorate of divinity during the University of Nigeria, Nnsukka's convocation ceremony in 2016.
As at the time of writing this piece, Pastor E.A Adeboye has 3 Postgraduate Degrees in UNILAG and an honorary Doctorate Degree from UNN.
One of the factors that motivated Enoch Adeboye to go the extra mile in his academic pursuit is that he had a dream of becoming the youngest person to become a vice chancellor in any of the top varsities in Nigeria.
In pursuit of this dream, he started lecturing Mathematics at the University of Ilorin (UNILORIN) and University of Lagos (UNILAG) – and he performed very well at the two institutions as a Lecturer.
Marriage & Family
In 1967, Enoch Adeboye got married to Foluke Adenike at age 25. They were faced with childbirth issues at the earliest stage of their marriage.
The first two childbirths were conducted through abdominal surgery (Caesarean section), and the young couples were warned by some medical personnel to stop subsequent childbirth to avoid certain health complications that may arise.
Upon hearing this, Enoch Adeboye and his young wife decided to seek the face of God for divine help. Few years down the line, their prayer was answered and the family was blessed with two more children, raising the number to four.
This includes Adeolu Adeboye, Bolu Adeboye, Dare Adeboye and Leke Adeboye. The great news is that all of them are now Pastors and they are all doing exploits for God in the various leadership positions they occupy.
Have You Read This?? Biography of Apostle Joshua Selman
Pastor Adeboye & RCCG – How it all started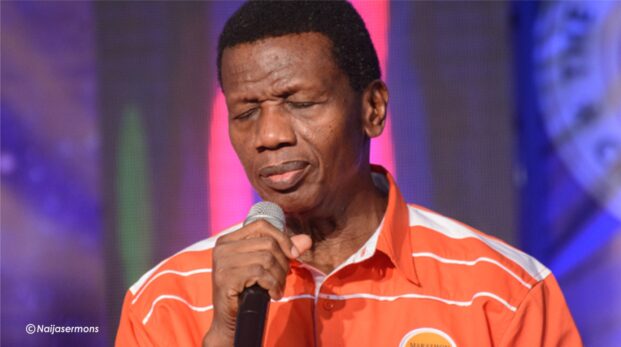 Enoch Adeboye and his wife, Foluke, joined the Redeemed Christian Church of God [RCCG] in 1973.
He got saved that same year, and as a result of this, he decided to be more committed to God's service by engaging in more activities in the church.
After a few months, He was chosen to be interpreting sermons [from Yoruba to English] for the founder of RCCG, Pa. Josiah Olufemi Akindayomi, who later in 1975, ordained him as a pastor.
Due to Adeboye's high level of commitment and utmost dedication, the then General Overseer decided to make him his immediate successor.
After the death of Pa. Akindayomi in 1980, Pastor Adeboye was made the General Overseer of RCCG in 1981.
He worked as a part-time lecturer at the University of Ilorin but resigned in 1990 to focus on God's work.
Under the leadership of Pastor E.A Adeboye, RCCG has grown wider and bigger.
In fact, the church is one of the highest branched churches in the world, with over 40,000 church branches across 196 countries.
The mission statement of RCCG paraphrased is; to make the Word of God the foundation of all doings, giving potentials and talent to the advancement to the things of God.
The vision statement paraphrased is; to sight and to help nurture talents given by God that will lead to the growth of the society.
The Redeemed Christian Church of God holds several power packed programmes all year round, such as the annual Holy Ghost Congress that attracts nothing less than 5 million worshippers every year.
Although, this year's convention was held online due to the pandemic.
The headquarters of the church is located at 1-5 Redemption Way, Ebute-Metta in Lagos state. The Redeemed Christian Church of God has over 10 million members.
READ NOW: Everything You Need to Know About The Redeemed Church of God [RCCG]
OTHER THINGS YOU MAY WANT TO KNOW ABOUT PASTOR ADEBOYE
Where is Pastor Adeboye from?
He is from Ifewara village, close to Ife, in Osun State, Nigeria.
Who is the Mentor/Spiritual Father of Pastor E.A Adeboye?
The spiritual father of Pastor Adeboye still remains Pa. Akindayomi.
Who is Pastor Adeboye's wife?
Pastor Mrs. Foluke Adeboye
Pastor Adeboye's Children
Pastor & Pastor (Mrs.) Adeboye is blessed with four wonderful children – Adeolu Adeboye, Bolu Adeboye, Dare Adeboye and Leke Adeboye
Sermons by Pastor E.A Adeboye
The man of God has preached more than 2, 000 messages.
They include but not limited to:
Click Here to Download all Pastor Adeboye audio sermons
Pastor E.A Adeboye Books
Below are some of the books written by Pastor Enoch Adeboye:
Christian Moderator
Deadly Enemy of Man
Divine Favour
Kingdom Prosperity
Fruits of the Spirit
100 prayer points. Vol 1-4
Anatomy of greatness
Carriers of his power
Divine intimacy
God has a purpose for your life
Open heavens devotional
Practical guides for prosperity. Vol 1-4
The gate of mercy
The god of signs & wonders
The overflowing christian
The swimming axe-head
Click Here to Download all Pastor Adeboye audio BOOKs
We've come to the end of Pastor Adeboye Biography. What are the things you learnt from this??
For more information, visit the official website of RCCG www.rccg.org