DOWNLOAD MP3: DISCERNING THE BODY OF CHRIST by Apostle Joshua Selman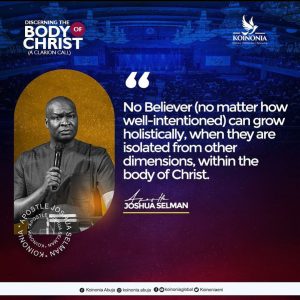 Did you miss today's Koinonia Abuja Service for April 2, 2023, titled DISCERNING THE BODY OF CHRIST by Apostle Joshua Selman Find below some nuggets before downloading…FOUNDATIONAL POINTS FOR THE BODY OF CHRIST: Jesus came to give us eternal life. He gave us life abundantly. The reality of The Believer's victorious life, is activated through knowledge. Knowledge or revelation in God's Kingdom is dimensional, which means it comes in parts. No single individual is given the whole counsel of God. There are consequences for ignoring the whole counsel of God. In God's kingdom, knowledge or revelation comes in parts and is based on the calling and assignment of each Believer. There are persons who are diverse parts in the Body of Christ; no individual holds custody to the whole of God's counsel. No believer (no matter how well-intentioned) can grow holistically, when they are isolated from other dimensions, within the body of Christ. Ignoring the various dimensions of God that He has deposited in the body og Christ, have consequently produced the the limitations that Believers face in various areas of their lives.
A refusal in admitting to not knowing it all and to decidedly acquire or outsource intelligence in lacking areas, is a deficiency in the body of Christ. Many Believers have allowed ego, insecurity, and fear to stifle the development and growth of the multifaceted dimensions of God, distributed throughout the body of Christ. Regardless of the imperfections in the body of Christ, Jesus Christ remains in the midst of her. The assignment of Believers is not to know everything, but to be faithful in dispensing the dimension of God resident in their lives, while respectfully acknowleding and receiving other needed dimensions, resident in the body of Christ.
Click the button to download (47mb)