Prophetic Gifts by Apostle Philip Cephas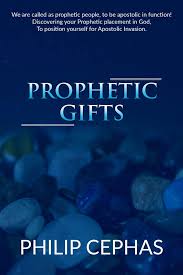 The gift of the Spirit is given to everyone for the profit of all. When God gives you a gift, that gift is not for your own benefit, but rather for the benefit of others. That which will benefit you will be put upon others. The gift of God which is to benefit you is given to another faithful witness of the Lord Jesus Christ. In the natural, when you buy a gift, you don't use it because it is to be given out for the use and benefit of another.
Also, if you must receive a gift, it must not come from you, it has to come from someone else and that which you receive from another as a gift will profit you. The same applies to the prophetic gift of the Spirit. God gives gifts to His faithful ones so that it will profit others in the body of Christ. The prophetic gifts are for the functioning of another. The gift is one of the most influential dimensions of the prophetic.
Size: 3mb