In Due Season By Apostle Arome Osayi MP3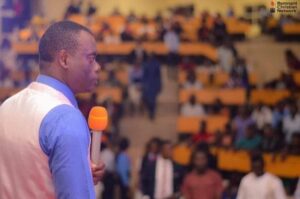 Most of us do not function with the Spirit of adoption, you do not consider God to be your God. Men with sovereign faith are scarce in our generation. It is easier for the devil to secure a ground that he as once conquered than for him to conquer a new ground. If men of radical faith can arise then the time of prophesy to come to pass as come because if we have men that has alternative God will never move in the land. So until we will insist on God and him alone, God will never move in the land.
Winning by righteousness is slower but will live a generation impart. When God want to make a formula out of your life, there will time he will make you lonely. It is possible for people to succeed in that which is not their purpose, but those that seeks the Lord are those that wants to fulfill purpose. The scripture says we should look at the example of Abraham our father because there was a pattern Abraham used in Seeking God.
When God want to change our future he changes the configuration of the heart. A man of Faith is a man that seek God and follows righteousness, men that will wait for God to lift them up. What is it that God has spoken to you and you are doubting? Know that our life's are in various t… You really need to listen to this powerful message!
Click on the below button to download the sermon now [14MB]:
People also found these useful
remnant christian network, rcn, Apostle Arome Osayi messages, teachings, preachings, sermons
DOWNLOAD ALL Apostle Arome Osayi messages HERE