Open Heavens Devotional for Today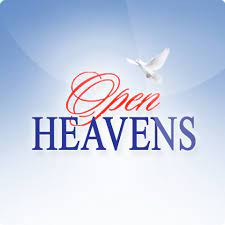 Would you like to read Open Heavens daily devotional for today, plus prayer points? You're on the right page…!
On this page, we have the devotionals for every blessed day, in a chronological order. All you need to do right now is to scroll down a little to the actual date you need, and then click the topic – the write-up will display instantly.
*Note: If you don't want to keep visiting this page every time you need the devotional, you can install our mobile app instead. It is very easier to access there. CLICK HERE TO INSTALL RIGHT NOW!!!
Open Heavens Devotional for SEPTEMBER 2021
About Open Heavens

The Open Heavens Daily Devotional is a product of the Redeemed Christian Church of God (RCCG). The church headquarters is located at the Redemption Camp, km 46, Lagos-Ibadan Expressway.
This devotional exposes people to the truth of God's word. It helps believers in their growth and walk with God, as it teaches them to walk circumspectly. It's a devotional that opens people to the whole counsel of God, with a wide range of categories, some of which include: Salvation, God's Kingdom, Dominion Mandate, Spiritual Growth, Family life, Finances, Miracles etc. It also contains daily hymns, memory verses, prayer points and prophetic declarations.
The daily devotional message is written by Pastor E. A. Adeboye, the General Overseer of RCCG. Born in 1942 in Ifewara village of Osun state, Nigeria. He was a student of Ilesha Grammar school in Osun state. A man with vision, diligence, ambition and passion for knowledge. He of a degree in Statistics from the University of Nigeria, Nsukka in 1967. He obtained both a Master's degree in Hydrodynamics and a Doctorate degree in Applied Mathematics from the University of Lagos, Nigeria. He had a goal of becoming the youngest Vice Chancellor in Nigeria, but the will of God took him somewhere else.
The consciousness of his relationship with God became real in 1973 while he was in a deserted building with his wife, seeking for God's divine intervention in his life. There he made a dedication to serve God for life. In 1981, He became the General Overseer of the Redeemed Christian Church of God. For many years now, he has served God faithfully, and his ministry has blessed the lives of many including himself and his family. He is fondly called Daddy G O by many people. He has also ministered in several places across Nigeria and beyond.
He got married to his lovely wife, Foluke Adenike Adeboye in 1967. Their union is blessed with children.
Open Heavens devotional for today, prayer points, pdf download, read online