Everything You Need to Know About RCN International Eagles Conference 2020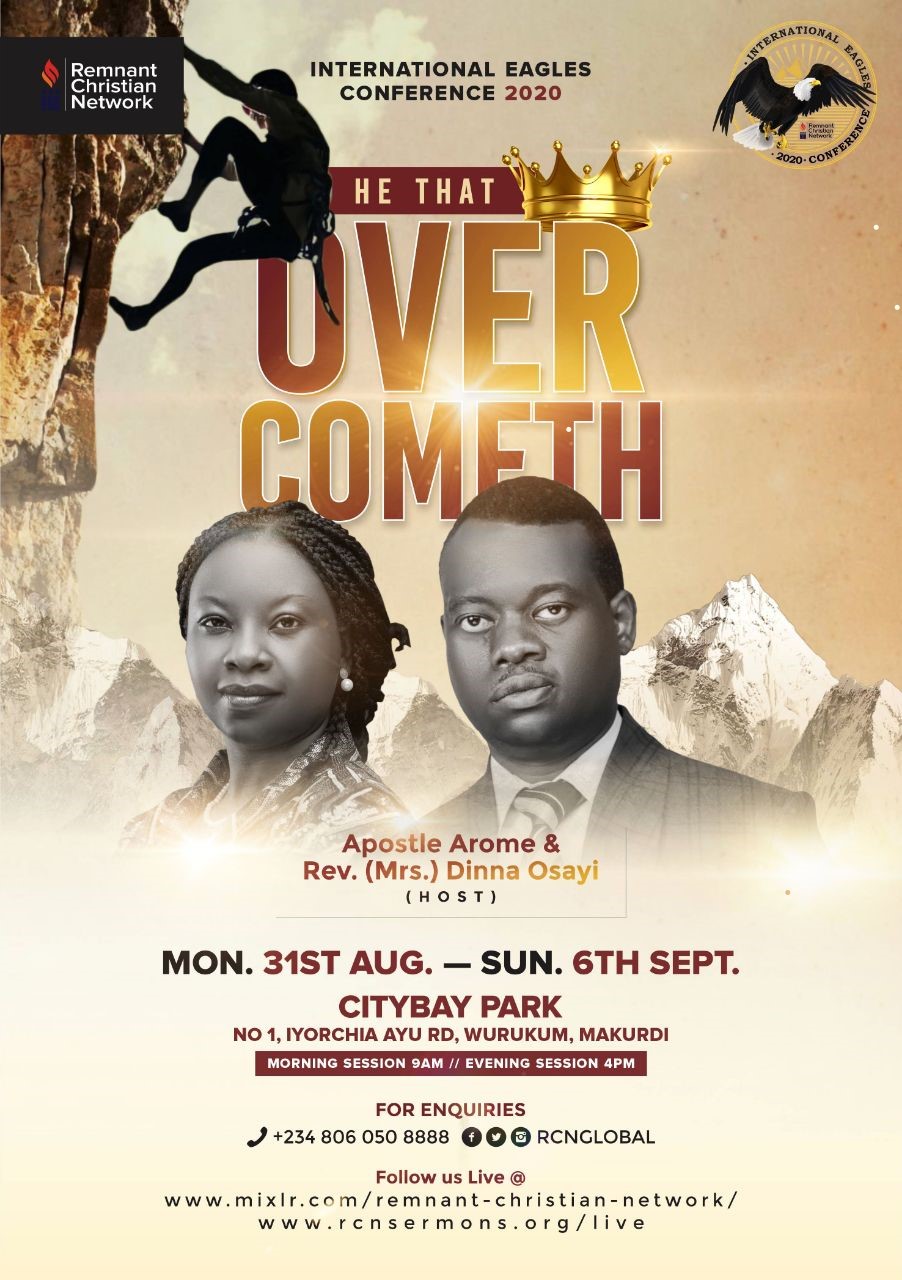 International Eagles Conference is a power-packed conference hosted by Remnant Christian Network at the Ministry's International Headquarter in Benue State, Nigeria. The Theme for this year is "He That Overcometh", and it promises to be a life-transforming event. Apostle Arome Osayi and other anointed men of God will be ministering live at the conference.
On this page, you will find all the necessary details you need to know about the programme, including the date, time, venue, schedule, accommodation, registration, among others.
Let's get started…
Click here Download All International Eagles Conference (IEC 2020) Messages with Apostle Arome Osayi & other Ministers
When is RCN International Eagles Conference 2020?
The Programme will take place between Monday, 31st August to Sunday, 6th September, 2020.
The venue is Citybay Park, No. 1, Iyorchia Ayu Road, Wurukum in Makurdi, Benue state, Nigeria.
The conference will hold by 9AM & 4PM Nigerian Time Daily, with quality sessions of Worship, Prayer, Intercession, Charge, Healing and many other features.
Want to Download All Apostle Arome Osayi Messages Till Date? They are available here
How can I attend RCN International Eagles Conference 2020
If you want to attend this conference, there are three major take off points available for you, including Lagos, Calabar and Kaduna. You can go through any of the three states, depending on the proximity to your current location.
If you choose to go with other brethren from Lagos State, there are two vehicle alternatives for you, and their prices vary.
Option 1 – Coaster bus:
Cost of transport to and fro is #23,200

It is air conditioned

25 passengers

It will also be available to transport brethren to the venue from designated areas close to where they will be staying in Markudi
Option 2 – Small Buses:
Cost of transport to and fro is #20,000

9 people per bus

Air conditioned

It won't be available for transporting brethren within Markudi ( just available for transportation to Markudi and back to Lagos)
Whichever option you choose, please bear it in mind that the Take off point for those going through Lagos is Omole Phase 1, details will be communicated a week before departure. Also, the Departure date is Sunday, 30th of August 2020 (exactly 5.30am), while the Return date is 7th of September 2020.* Join this Whatsapp Group for more information about that.
How to Pay Your Transport fees
Please find below the details for Payment for Transportation.
Account Name:
Remnant Christian Network (IPC)
Account:
2033273930
Bank Name:
First Bank Plc
How Can I Book an Accommodation for RCN International Eagles Conference 2020?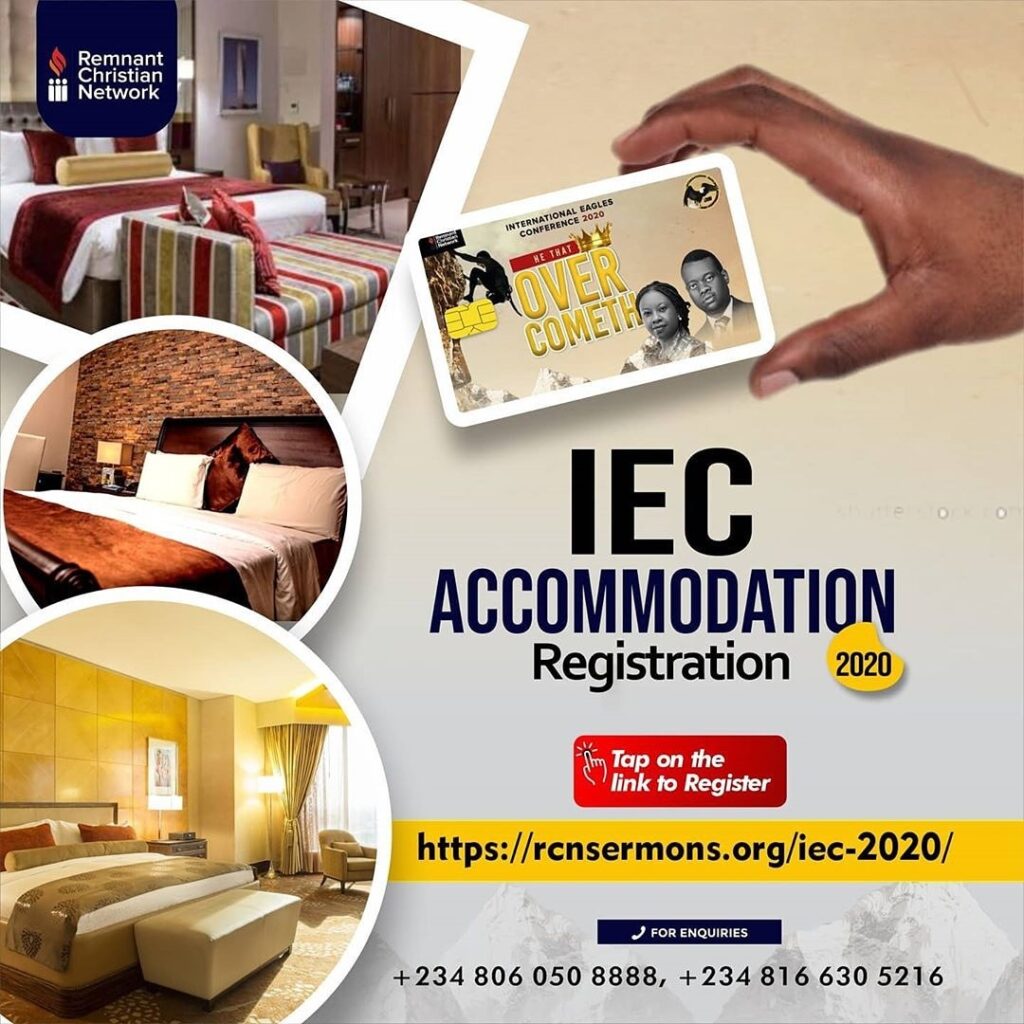 If you're going for this conference, there is a free accommodation as well as premium accommodation.
Free accommodation: The prayer tent is being considered to accommodate participants but this will only take a few participants, at minimum comfort.
Premium Accommodation: This is extremely comfortable. However, You will be charged per night for this. To book your accommodation for this conference, click here. Please note that For the shared room of N3,000 per night, it is possible for 3 people to share the room, thereby making the accommodation less for the occupants. Meaning N7,000 will be paid for 7 nights which is throughout your stay in Markudi
Other alternative free accommodation. This will be communicated as soon as possible, if available
How Can I Follow/Stream RCN International Eagles Conference 2020 Live?
You can stream the programme live via mixlr or rcnsermons
How Can I Download RCN International Eagles Conference 2020 Messages?
We will upload all the sermons, teachings and messages from the conference as soon as we get them. You can download them here.
Read this very important update!
The coaster Bus will only take 25 passengers for this trip and 9 passengers for the small buses.

All prospective passengers must wear face masks for risk not being allowed on the Bus.

Body temperature of each passenger will be checked before being admitted to the Bus.

Hand sanitizer will be provided for passengers before being admitted into the bus.