THE LOST CUTTING EDGE By Bro Gbile Akanni mp3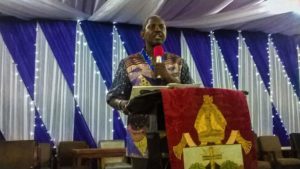 The story in 2KING 6 VS 1-7 is about the sons of the prophets learning under the ministry of Elisha. They cried to Elisha making him realise that their dwelling was too small for them. This means they had an actual assessment of their habitation. If a man cannot have an actual assessment of his life, he is not ready for revival. For a woman to bring forth, the baby should be ready to come out and then the push breaks forth making the woman fall in labour.
The first word in this passage is 'behold' which is a willingness for revival. For these young people to experience revival they were able to say 'behold' meaning this is my situation. Many people come to God in pretence of their state. God will only answer to us when we are ready to say 'behold this is where I am now'. You cannot use the word 'behold' and hide. For God to rescue you from your current ordeal, you must first of all gr… You really need to listen to this powerful teaching!
Click on the below button to download the full sermon now [16mb]:
Click here to DOWNLOAD ALL Bro Gbile Akanni messages at once